Brush Up! a Brushpen Calligraphy Workshop
9:20 PM
Brush Up! is organized by
Typescribe PH
a Cebu-based organization aiming to promote the art of brushpen calligraphy and typography through hosting workshops and related events to increase the awareness of the artform and to encourage talents to hone their skills.
Suw(h)at heard of the event from it's organizer,
Gian Solamo
, who is a good friend (initially a good friend of a friend) and is also the founder of
Graphik 9
. He is a practiced brushpen calligrapher and has
stalker-worthy
admirable and inspiring work up on his Instagram page.
Gian was generous enough to think about sharing his skills on the art of brushpen calligraphy by building a community of interested talents that are willing to learn under his tutelage.
The Brush Up! registration guarantees you a spot in the workshop, two free brushpens, an event-exclusive notebook, a number of useful worksheets you can take home, a canvass bag you need to design on at the end of the workshop, and most importantly, free food and drinks!
I actually came in late due to unforseen circumstances
almost loosing my mobile phone
so I assumed they had a short lecture on the types of brushes, strokes, and general how-tos before they started on the exercise sheets.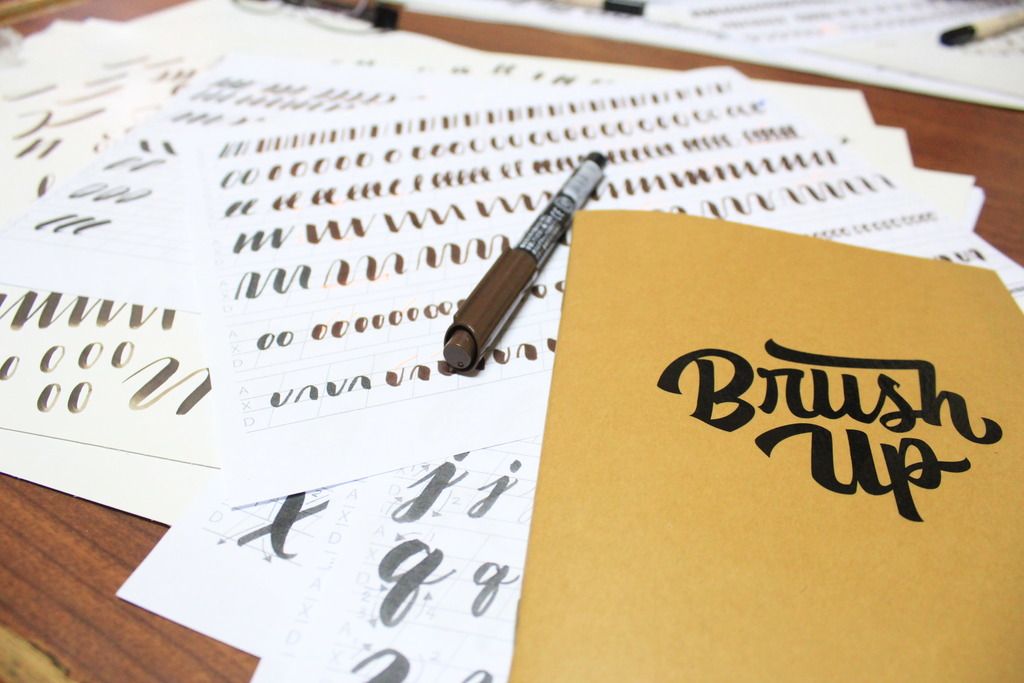 I have never done so much artful writing in a day. By the time the clock hit 3pm, my wrist was aching and my fingers were numb but boy did I learn so much through repetition; muscle memory plays a huge part on the outcome of your piece.
The Brush Up! workshop kit had a ton of exercises ranging from rows and rows of uppercase and lowercase letters, and a huge worksheet with artfully written words and phrases that you can replicate and practice your versatility on.
Free Handuraw specials, drinks, and good music also accompanied us as we went about our work. The Typescribe crew were very welcoming and easy to talk to, a lot of them being as young as us (wink).
What I loved about the workshop was that Gian painstakingly checks your work after every row you finish. He tells you how your stokes could improve but always emphasizes that you're free to find your own style, that your calligraphy should always reflect you, which is also what suw(h)at dreams to be all about.
At the end of all the drills and when you've got the hang of the basics, the final session of the workshop lets you express yourself by designing your favorite quote on the canvas bag that came with the workshop kit. Naturally, I chose suwhat's battle cry.
Overall, the event was great and what you get out of is is way more than the materials and skills you gain. It's a test of patience of focus and highlights the importance of practice in gaining any skills and that individuality is something you shouldn't forget along the way. Suw(h)at highly recommends Typescribe PH workshops and would gladly support them in their future events!
Any opportunities and events that we should know about? Poetry slams or writing contests, maybe? Tell us about them in the comments below. Long live notebooks!